Yosemite — eπ Maps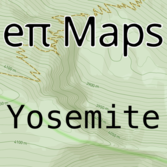 ---
Features
Enjoy Yosemite National Park with our completely Offline map.
Features
This eπ Map is completely offline.
Use your GPS to see your location on the trail.
Now with beautiful shaded relief.
Topographic map with 40 feet contour intervals.
UTM (Universal Transverse Mercator) lines every 1 Km.
What to see
Featured locations include El Capitan, Half Dome, Clouds Rest, Little Yosemite Valley, Badger Pass Ski Area, and the World Famous Yosemite Valley.
Your trip, your privacy
Works offline without a network
After the initial app download from the Apple App Store, no server is necessary
We don't track your location
We don't have analytics in our app
We don't care where you go, we just want you to enjoy yourself safely
eπ Maps are powered by Mapbox and WebGL & OpenGL. Vector based maps are built with Open Map Tiles, and hill shaded relief raster maps built with GDAL and WebP.