---
Topographic Maps from US Forest Service or US Geologic Service
A map — one of the ten essentials.
Anyone going to the back country needs a decent map. Most outdoor stores sell 7.5 minute topographic maps (maps with contours). But there are great online resources to download and buy topo maps.
---
Print Shops in San Diego
---
CalTopo.com
CalTopo.com is a great resource for generating Geospatial PDFs. You can center the map at your particular latitude/longitude instead of trying to span multiple quadrangles. Then you get a URL that you can use to download your PDF for printing.
---
United States Forest Service
The USFS has a site for downloading PDFs of their format called "FSTopo GeoPDFs". These maps can be viewed any usual PDF reader and printed out.
This example of a GeoPDF shows the following
The printed output side
The product generation date
UTM and latitude/longitude
Legend, including adjoining quadrangles
Scale and magnetic delcination are also on these maps
The GeoPDF file size in MB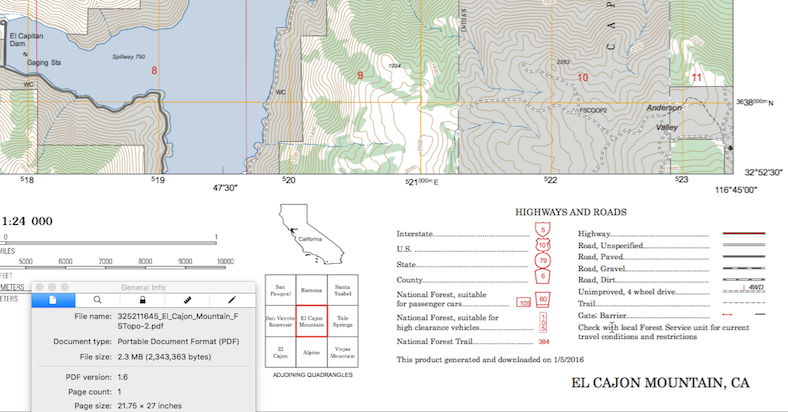 ---
United States Geologic Survey
The USGS has a site that is a map locator and download site. You can download 7.5 and 15 minute maps
The USGS Topos have a different features set
A satellite image is included in the GeoPDF, making the file slightly larger
If you wish to print with out the satellite, then you have to use a GeoPDF plugin to disable the image layer.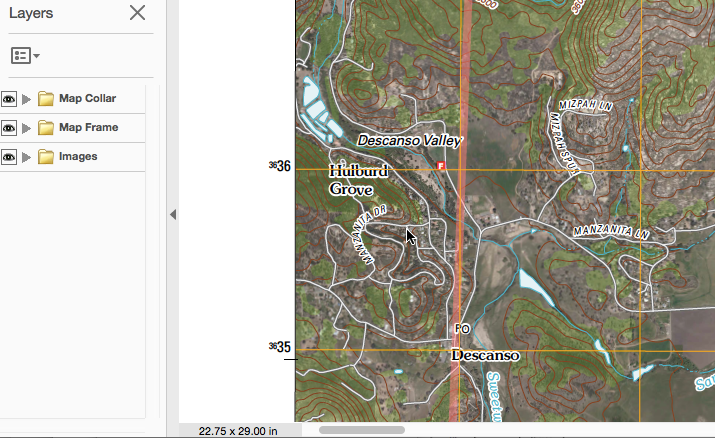 ---
Live Online map of select USGS Maps